Question of the Week: Can you give an example Jesus' divinity?
Verses: Isaiah 44:6, Revelation 1:17
The deity of Christ is an area of controversy among every major cult group and always tends to come up in conversations with those who are in opposition to the gospel. Muslims claim He was merely a prophet. Jehovah's Witnesses claim Him to be the Archangel Michael. Mormons claim Him to be one of many gods. How do we respond to these claims on the basis of scripture? The easiest way is just to look at the kind of claims only God can make about Himself and see if Jesus ever made those claims about Himself. The first of many examples you can give is found in Isaiah where Yahweh claims to be the first and the last. This not only is a claim to being eternal, but the eternal nature exclusive to the being who is uncreated. Jesus makes the exact same claim about Himself in the book of Revelation where He comforts John after falling dead in His presence and tells him that He is not only the First and the Last, but was dead and is now alive forevermore. It is this claim among many others that Jesus makes about Himself, such as being one with the Father, the I AM of the Exodus, having the right to forgive sins, being the final judge of all Creation, and sharing the Father's glory with Him before the world was created, that we believe He claimed to be God and proved it through His Resurrection.
For more excerpts from A Reason For Hope, visit our page HERE.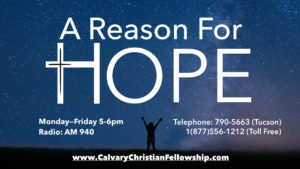 A Reason For Hope is a ministry of Calvary Christian Fellowship of Tucson
Listen: Monday – Friday 5-6pm, AM 940 KGMS
Call with your questions:
1(877) 556-1212    (Toll Free)
(520) 790-5663    (Local)
Email your questions:
questionsforhope@gmail.com
Or fill out the form below.
Follow Twitter: @ScottR4H
Follow on CCF Facebook: facebook.com/ccftucson