Question of the Week: Is Lent taught in the Bible?
Verses: Colossians 2:20-23
The short answer is no. The long answer is noooo. Lent uses biblical practices like prayer and fasting to prepare for the holiday of Easter. While this seems outwardly noble, you will not find a single mention of a mandatory fast or regular abandoning of a certain vice on a particular day. Fasting is a voluntary time where you dedicate your time and attention to prayer instead of something else. An example of this is Daniel, who ate during a fast, but fasted of certain foods to focus his attention on God. In the same way, when the book of Acts records the people of Ephesus burning their belongings purchased from pagan shrines, it wasn't because it was a certain day where they needed to biblically do so. They wanted to pursue God and chose of their own volition to destroy the things in their lives that stood between them and God. These things were a demonstration of a heart that desired God, not ones that submitted to tradition. According to scripture, outward actions without first a changed heart accomplishes nothing. If you want to prepare your heart to worship God, do so as He's called you, Not your calendar.
For more excerpts from A Reason For Hope, visit our page HERE.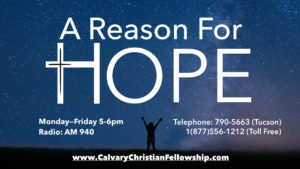 Listen: Monday – Friday 5-6pm, AM 940 KGMS
Call with your questions:
1(877) 556-1212 (Toll Free)
(520) 790-5663 (Local)
Email your questions:
questionsforhope@gmail.com
Or fill out the form below.
Follow Twitter: @ScottR4H
Follow on CCF Facebook: facebook.com/ccftucson