Question of the Week: How do I know what God's will is for my life?
Verses: 1 Thessalonians 4:3-8, 1 Timothy 2:3-4, Jeremiah 29:11-12
Our problem isn't that we need more spiritual IQ. We need more spiritual I do. God has made His will for our lives clear in His written word. If you want to do what God wants you to do, you're 99% of the way there. The rest is given to us in writing.
For more excerpts from A Reason For Hope, visit our page HERE.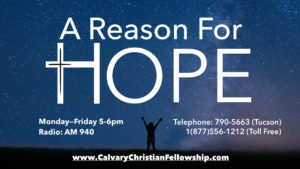 Listen: Monday – Friday 5-6pm, AM 940 KGMS
Call with your questions:
1(877) 556-1212 (Toll Free)
(520) 790-5663 (Local)
Email your questions:
questionsforhope@gmail.com
Or fill out the form below.
Follow Twitter: @ScottR4H
Follow on CCF Facebook: facebook.com/ccftucson