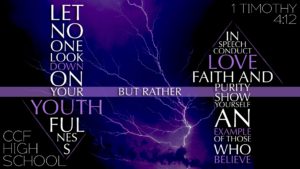 Let no one look down on your youthfulness but rather in speech, conduct, love, faith and purity show yourself an example of those who believe.
1 Timothy 4:12

Our Aim:
We believe that every student has the potential to rise up and do amazing things for the kingdom of God and we would like to challenge them to do just that. We want to help each student come to a saving relationship with Jesus and then prepare for and find the path that God may be leading them to walk.
Our Meetings:
Sunday             9am           Sunday School                       A time of teaching, games and fellowship
Sunday             11am         Bible Study                             A time of in depth study and discussion
Wednesday      6:30pm        Option of joining Sean Richards with Junior High or it is an opportunity to worship/learn with your family in the main service.
(See Junior High Ministry for more information)
Other Activities:
We like to have opportunities for the students to develop lasting friendships with their fellow students, so we try to provide a variety of activities from small events (bowling, laser tag, frisbee golf, hiking, etc) to larger events (summer camp in Big Bear, California, Magic Mountain, and more) and some extended times where we camp out at church for teaching and fun (lock ins). There is a monthly calendar available with upcoming events.
Leadership: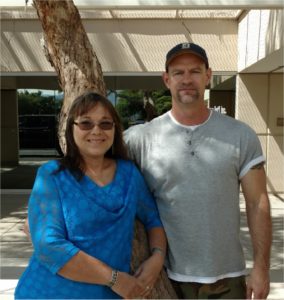 Tom and Eileen Ellis are the teachers and adult leaders of the High School group. They have been married for 25 years and have two daughters (19 & 21). They have been involved in student leadership for a number of years and understand how difficult and scary it can be to raise kids in this generation, but God is greater than the influences of this world!
Student Ministry Archive: 
Current Study
Sunday: Heroes Of The Faith