Question of the Week: Is the Bible vague on the topic of Abortion?
The simple answer is no. The only mindset that would allow this kind of conclusion is one that doesn't want to hear the answer. Or at least, wants to avoid a conclusion that is unpopular or uncomfortable. If the Bible is going to be clear or vague about anything, we need to first clarify how the Bible presents information. Once our standard for a proper handling of scripture has been set, we can use it to determine whether the Bible's stance on abortion is vague or clear.
If our standard for something being clear is for it to be spoken in a yes or no format in plain English, we're reading the wrong books. The Bible is a collection of books originally written in Hebrew, Greek, and Aramaic in order to record history, present the character of the God of Israel, and verify His authority through predictive prophecy. If we were looking for a rulebook, we'd need to limit ourselves to the laws of ancient Israel given in Exodus 20-24. Obviously there's more to the Bible then a list of ethics. A Christian isn't using to Bible to determine what set of rules will make God bless them. We establish our understanding of His character through the witness He's left of Himself throughout history. From that understanding of who He is, we are given more reasons to trust Him and recognize He will do right by us. The relationship is based on knowing who you love. It's not about memorizing a list of His likes and dislikes.
All the words of my mouth are with righteousness; Nothing crooked or perverse is in them. They are all plain to him who understands, And right to those who find knowledge.
Proverbs 8:9-10 (NKJV)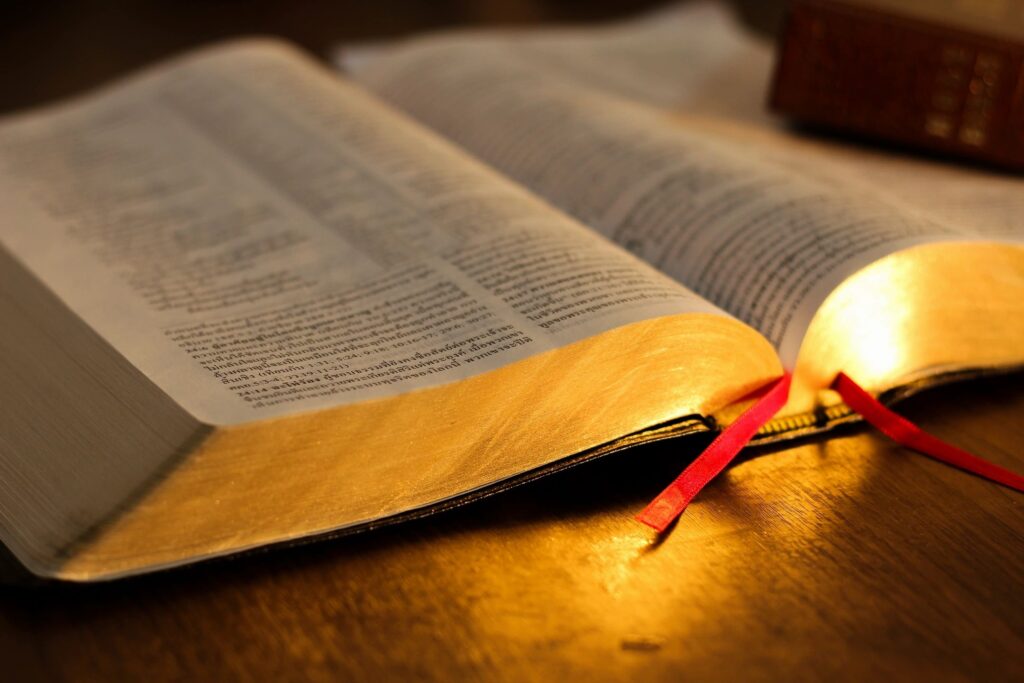 Now that the Bible has been properly defined, how do we recognize its position about certain issues like abortion? Looking for modern terms like Abortion, Pro-Life, or Pro-Choice are non-starters. They didn't exist at the time scripture was revealed. We shouldn't expect them to be used. In order to address an issue based on a Biblical worldview, we have to clarify what the issue actually is. The dividing line for those on either side of the Abortion issue is what defines a human life. Those on the side of abortion do not recognize an unborn child as a human life. Thus the accusation of murder is unfounded based on this worldview. Those against abortion believe that life begins at a point within their mother's womb, rather than at an undefined point outside of it. If Christian scripture makes truth statements that exclude or promote one of these positions over another, then we can come to a clear conclusion about whether the Bible is vague or not.
For You formed my inward parts; You covered me in my mother's womb. I will praise You, for I am fearfully and wonderfully made; Marvelous are Your works, And that my soul knows very well. My frame was not hidden from You, When I was made in secret, And skillfully wrought in the lowest parts of the earth. Your eyes saw my substance, being yet unformed. And in Your book they all were written, The days fashioned for me, When as yet there were none of them.
Psalm 139:13-16 (NKJV)
"Before I formed you in the womb I knew you; Before you were born I sanctified you; I ordained you a prophet to the nations."
Jeremiah 1:5 (NKJV)
"Listen, O coastlands, to Me, And take heed, you peoples from afar! The Lord has called Me from the womb; From the matrix of My mother He has made mention of My name.
Isaiah 49:1 (NKJV)
These passages form the foundation of a Christian's understanding of abortion. In the Old Testament, we have statements made by David, Isaiah, and Jeremiah, where in their contexts we have them being known by God in their mother's womb. Thus having identities. They are all given spiritual callings while still in their mother's womb, thus having agencies. And they are speaking these words both in and outside of a poetic context. If an observation is made in exclusively a poetic setting, one could claim these aren't necessarily doctrines. Symbolism could be an alternative. However, Isaiah and Jeremiah are speaking in the context of prophecy. If God's perspective of human life includes the ability to know, speak to, and identify people while they are still in their mother's womb, then the premise of a pro-abortion worldview is something God disagrees with.
And it happened, when Elizabeth heard the greeting of Mary, that the babe leaped in her womb; and Elizabeth was filled with the Holy Spirit. Then she spoke out with a loud voice and said, "Blessed are you among women, and blessed is the fruit of your womb! But why is this granted to me, that the mother of my Lord should come to me? For indeed, as soon as the voice of your greeting sounded in my ears, the babe leaped in my womb for joy.
Luke 1:41-44 (NKJV)
Moving on to the New Testament, we have the plainest opposition to the truth claims a pro-abortion argument puts forward. The mothers of John the Baptist and Jesus of Nazareth are both pregnant with their future children. If they were not yet human, then the only individuals that should be interacting or reacting are the conscious women involved in this situation. Yet this passage claims that a fetus developing within the first trimester was in fact the same Jesus who was recognized as God outside of Mary's womb. And to verify this, John the Baptist was the one reacting to the presence of his Lord while still in the second trimester of his mother's womb. There is no room for this passage to be reconciled with the presumptions made by those in favor of abortion.
Is the Bible clear on the topic of abortion? That depends what you mean by clear. If what you mean by clear is that there is a yes or no statement that denounces or promotes abortion in a modern sense, you're setting up a standard that most legal documents won't pass. If what you mean by clear is that there are truth statements made in scripture that recognize the life and agency of a child before they are physically born, then it is absolutely clear. The willful ending of a life is murder. If a Christian justifies murder by redefining life in direct contradiction to scripture, they're not in line with a biblical worldview and would have a hard time applying the same standards to the very things they believe that make them Christian.

A Reason For Hope is a ministry of Calvary Christian Fellowship of Tucson
Listen: Monday – Friday 5-6pm, on 106.3FM Reach Radio
Email your questions:
questionsforhope@gmail.com
Follow Twitter: @ScottR4H
Follow on CCF Facebook: facebook.com/ccftucson
Watch our Frequently Asked Questions on YouTube.