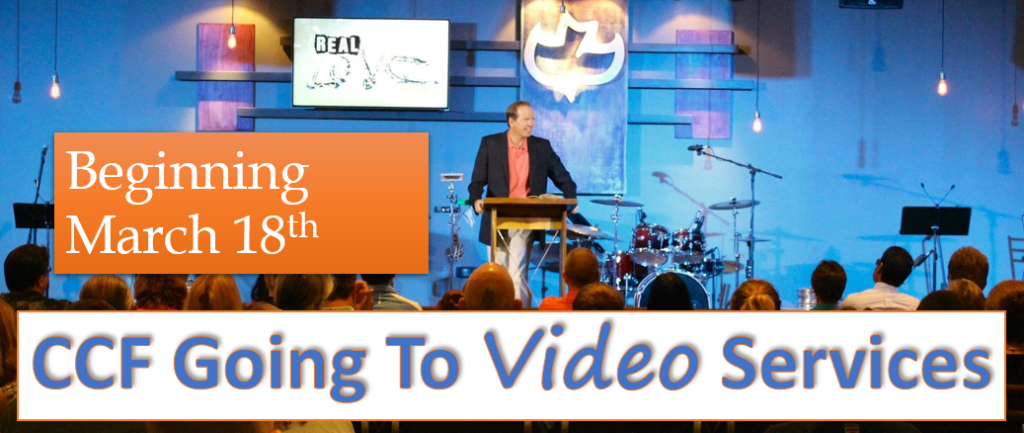 To the Church family at C.C.F.!
As you all are aware there is a lot of conflicting information regarding the challenges presented by the Coronavirus (Covid-19) and the response to the crisis, especially among churches. In order to get utmost clarity on the issue, this morning I have had conversations with both the CDC, Arizona State Department of Health, as well as a number of personal physicians and specialists whose opinion I have come to respect.
I first asked how many confirmed cases are we dealing with in the state and here in Pima County. There are now 12 confirmed cases in the entire state, and four here in Pima county. This is good news. I also asked if the proposed CDC /White House/State restriction of crowd sizes to 10 people was a recommendation or a mandate – which has the force of law behind it.
The answer was that it is only a recommendation at this time, but that could change overnight. Having had these conversations – I have also tried my best to do due diligence as to what the experts are saying. To say that the takes are conflicting is an understatement.
So where does this leave us?
Two Scriptures have given me a great sense of clarity on this issue. We want to have a Biblically balanced response, not a knee jerk reaction to the crisis.
Hebrews 10:25 tells us, "Let us not forsake the assembling of ourselves together, as is the habit of some, but all the more as we see the Day approaching." There is no doubt that we need to stay connected as believers. This is how we will receive hope, comfort and protection from the real danger in a situation like this – fear. Fear thrives in isolation so we want to move ahead in a way that allows us as God's flock to have a living connection together as a body.
The other passages that shed light are Romans 13:1 – "Let every soul be subject to the governing authorities. For there is no authority except from God, and the authorities that exist are appointed by God." Also, in Titus 3:1 we read, "Remind them to be subject to rulers and authorities, to obey, to be ready for every good work." Clearly, we need to be in submission to the governing authorities as those placed in their role by the Lord to ensure our welfare.
The wish of the White House, Governor's office and the Mayor of Tucson is that we abide by the CDC established limit of no more than 50 people at a gathering with a preference that it is closer to 10. In my conversation with the CDC representative, he stated the purpose of this is to blunt the initial spread of the virus which can be passed even before symptoms are evident. By doing so the chances of this virus infecting hundreds of thousands of people are greatly reduced.
So how do we maintain these two Biblical priorities?
First – We can maintain our connection as a body by providing live services – accessible only online. This will allow us to experience the fresh work of the Spirit as He ministers to his people in real time.
Tomorrow night (Wednesday) will have our live Oasis Service that can be viewed on our various platforms; Roku, https://calvarychristianfellowship.com/, Calvary Christian Fellowship of Tucson on Facebook, as well as the Phone App. Although the service will be live, attending the service in person will not be open to the general public.
Sunday morning will work the same way – We will have a welcome – a worship set – and a live message at both 9 and 11. But it will not be open to the general public. It will be available for view online.
We also want you to know that the church will be open to provide encouragement and prayer support for those who need it during our regular office hours. We are asking our employees to work mostly from their homes. But with modern technology our secretaries will still be able to answer your phone calls.
You can contact our pastors on their personal Facebook pages or use the C.C.F. Facebook page to express a need. Our prayerful desire is that our body is effectively, powerfully and personally ministered to during this difficult time.
We will use our Events/Sign Up page on the C.C.F.T.com website as an e-bulletin to allow you to sign up for various needs and ministry helps services.
Today more than ever we can stay connected! We do not believe that this tragic set of circumstances caught our Lord by surprise. We do believe that this may open doors for new and more effective ministry opportunities here in the body. Would you make a commitment to access the services and prayerfully participate in them through prayer, digging in to God's Word and continuing your giving as unto the Lord? Perhaps you would even consider hosting a "Watch Party" at your home to enhance your sharing in God's amazing love?
Let's pray that the Lord uses this time as an open door to deeper commitment, fellowship, outreach and growth. "Faithful is He Who calls you, Who will also do it." (I Thessalonians 5:24)
Pastor Scott Richards

Ways to watch services from home

Roku – Download the App! Click the link above.
CCF Website – https://calvarychristianfellowship.churchonline.org/
Facebook Live – https://www.facebook.com/ccftucson/
Phone Apps – https://easytithe.ministryone.com/landing/kp6b
---
4 easy ways you can contribute to the Ministry.
Text your amount to this number 520–428–6444 That's it!
Online giving – https://app.easytithe.com/App/Giving/ccft
Mail in your Tithe & Offering to Calvary Christian Fellowship 3850 N. Commerce Dr, Tucson, AZ 85705
Give during the worship service